The Australian Cobberdogs bring so much Joy and Happiness.
Their amazing temperament make them the perfect family dog and excellent therapy and assistance dogs. They are :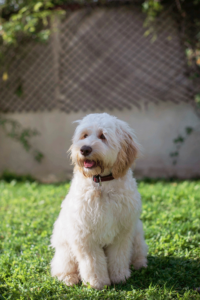 Loving and affectionate
Incredibly intuitive
Intelligent and easy to train
Social and non-aggressive
Kind with children
Funny and love to play when asked to, otherwise calm
Allergy-friendly and low to non-shedding with no dog smell
Friendly with other dogs, cats, …
Take a look deep into their beautiful eyes and you'll see
A sound mind in a sound body.
Cobber means Best Friend, and you can not get a better friend.
The Australian Cobberdog will follow you all over, hiking, on boat trips, to the café or just lay down next to you. If you are ill he will stay by your side. They are real « Angel Paws ».
This beautiful breed was developped by Mellodie Woolley of Tegan and Beverley Manners of Rutland Manor in Australia to make it possible for allergic people to have an assistance or therapy dog. Their highly developped intuition and human focus make training for these purposes quicker and with a better outcome.
They come in three sizes:

Mini :
Medium :
Standard :

34  cm – 42 cm
43  cm – 51  cm
52  cm – 61  cm

Their coat is straight, wavy or spiral fleece and comes in multiple colours: Chalk, Cream, Gold, Red, Black, Silver, Blue, Chocolate, Café, Parchment and Lilac. They may also have 2 (or 3) colours : Parti, Phantom, Sable or Merle.
You will find more information about the breed standard at the official Master Dog Breeders & Associates (MDBA) website for the Australian Cobberdog.
We live in Provence with our beautiful Cobberdogs Milou, Tegan's French Opale and Tegan's Polar Star. We are not professional breeders, but have 3 beautiful Cobberdogs that are part of our family.
Opal got her first litter the evening of Halloween 2019. The dad id Tegan's Power of Passion from Von der Vils in Germany.
She got a second litter on Mother's day, june 2020. Polar was the young first time dad.
Our puppies are all registered with the Master Dog Breeders and Associates.
Opal has had her full breed profile made by Orivet in Australia and is all clear of all the genetic diseases tested. She has also been tested free of allergies.
I'm so much looking forward to bringing joy to families in France, and hope that some of our puppies will be trained by their families to be therapy dogs or medic alert dogs.
We will not sell family-dogs abroad. There are many nice breeders in the other European countries.